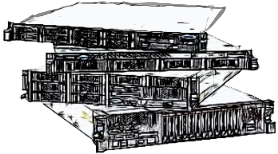 In addition to the regular support of servers and websites we also offer one-time services. The company which doesn't need a server support may order just setup and configuration of the server.
Also you can order the implementation of specific projects such as mail server setup. We provide a full range of services to install and configure the operating system and software for Windows or Linux OS. Below there is a list of our core services and if you haven't found what you need do not hesitate to contact us.
We are sure that our team of professionals from different areas can solve any task. Owing to our experience we solve both routine and not trivial tasks.
The cost of our work is below average on the IT market. Each our client gets an individual approach and the best price that depends on the scale and complexity of the work.