On Wednesday March 10, Octave Klaba, the OVH CEO, wrote in his twitter about burnout of SBG2 data center in Strasburg. SBG1 has been also damaged partially. Two other data centers remain safe. Luckily no one of the staff was injured in the incident.
In response to this tweet some clients claimed their apps become faulty. As of Wednesday evening, the ignition source is unknown.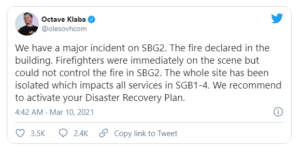 Despite OVH is not in top 3 cloud native providers, it is still popular among users of cloud services. The company has about 30 data processing centers in Europe as well as in American continent (including VMware vCloud Air.since 2017) and Asia-Pacific area.
This is not the first downtime incident for the French cloud provider. In 2017 a power cut due to an unassociated software error in the network hardware caused the whole Roubaix campus in to shut down.
These incidents once again remind the vital necessity of developing fail-safe solutions for business.
Our company offers following solutions:
Such unforeseen situations can happen to anyone. Therefore, it is better not to skimp on security. Contact us [email protected]