1996
At Compaq Computer's office, a small group of technical executives  predicted the future of Internet business and called it "cloud computing." They "predicted" that all business software would move to the Internet, and that consumer file storage would also move to the cloud. 
Sean O'Sullivan spent two years building his startup, NetCentric, whose goal was to push software into the Internet (software inside the internet). Compaq invested $5 million and assigned their CMO, George Favaloro, to write a proper business plan.
NetCentric ran into difficulties and was sold in 2001. For Compaq, this was the start of a $2 billion business selling servers to ISPs.
Prior to "cloud computing", O'Sullivan founded MapInfo (one of the first location-based services) in 1986 and gained over a million users and a capitalization of $200 million in 7 years. And in 2011, O'Sullivan was trying to make his own Uber. Let's get back to cloud computing.
1999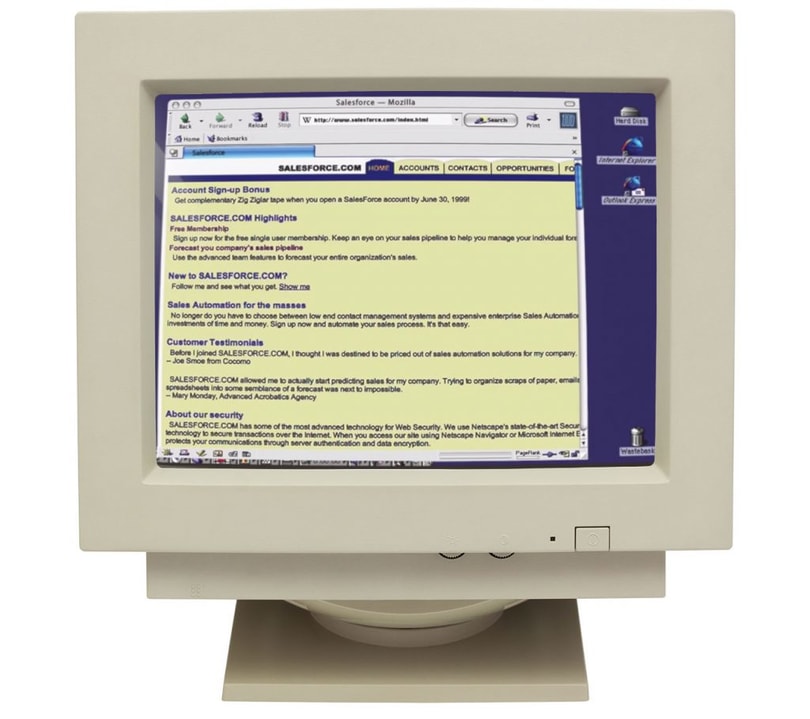 In 1999, the Salesforce.com CRM system appeared, which was provided by subscription in the form of a website.
Four comrades Marc Benioff (a former top manager from Oracle), Parker Harris, Frank Dominguez, Dave Moellenhoff rented a one-bedroom apartment and launched a cloud-based company. They attracted first investments from Larry Ellison (founder of Oracle) and from Halsey Minor (founder of CNET).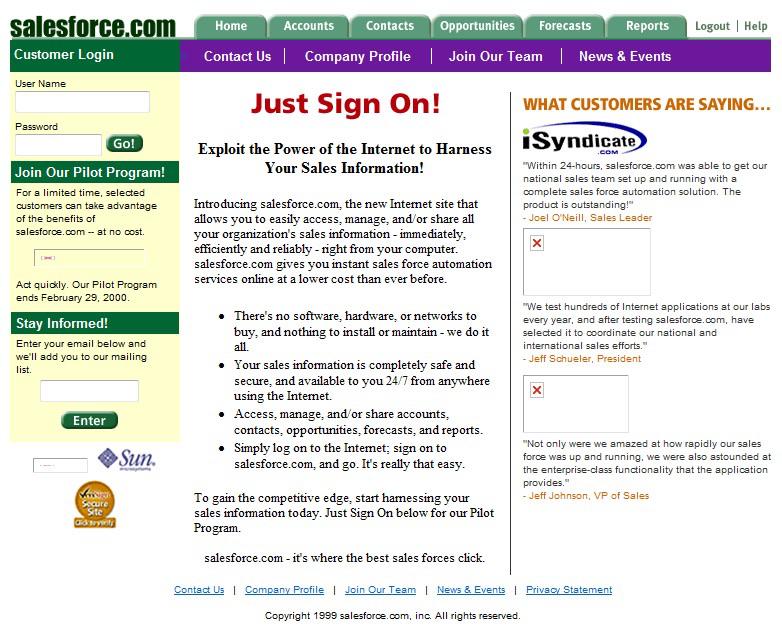 All four design the prototype, wear Hawaiian printed shirts, appoint the dog Koa as Chief Love Officer, and constantly seek feedback from users. They only work on what they think is important and necessary to make it "fast, easy, and right the first time."
By the end of 1999, the company had grown to 40 employees and an office of 750 square meters.
2002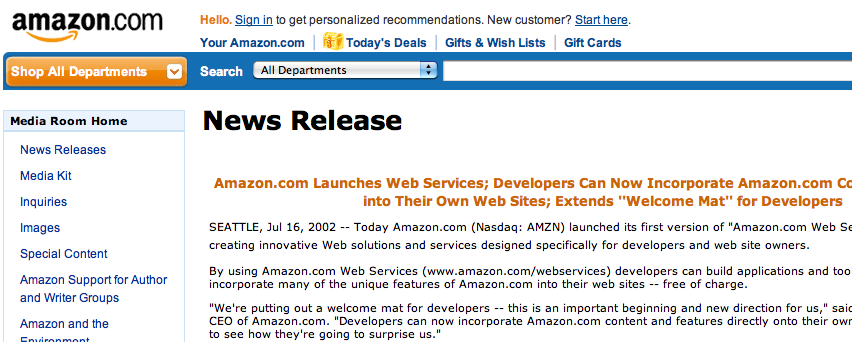 When developing Merchant.com, an e-commerce-as-a-service platform for third-party retailers, Amazon programmers faced a lot of problems and decided to improve the lives of themselves and everyone else by making a convenient service for autonomous engineering teams.
In July 2002, Amazon.com Web Services, under Colin Bryar, launched its first web services, opening up the Amazon.com platform to all developers. By 2004, more than a hundred applications had been created on its basis. This unexpected developer interest took Amazon by surprise and convinced them that the developers were "hungry for more."
2006
Amazon Elastic Compute Cloud (EC2) allows users to rent virtual machines to run their own desktop applications. EC2 encourages scalable application deployment by providing a web service through which a user can download an Amazon Machine Image (AMI) to set up a virtual machine, which Amazon calls an "instance", containing any desired software. The user can create, start, and terminate server instances as needed, paying per second for active servers—hence the term elastic. EC2 gives users control over the geographic location of instances to optimize latency and provide a high level of redundancy.
2006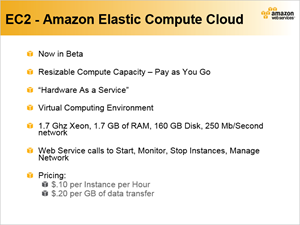 On August 9, 2006, Eric Schmid, CEO of Google,  spoke at a conference  and introduced the term "cloud computing" to the whole world.
2006
Timeweb started with just one server, two employees, and a single service—a regular shared hosting service.
2008
2008 OpenNebula NASA, under the European Commission funded RESERVOIR project, became the first open source software for deploying private and hybrid clouds. 
2008
In April 2008, the Google App Engine beta was released  .
It is a cloud computing platform as a service for developing and hosting web applications in data centers operated by Google. Applications are isolated and run on multiple servers. App Engine offers automatic scaling for web applications: As the number of requests for an application increases, App Engine automatically allocates more resources to the web application to handle the additional demand.
2008
By mid-2008, Gartner saw cloud computing as an opportunity to "shape the relationship between IT service consumers, those who use IT services, and those who sell them," and observed that "organizations are moving from hardware and software assets, owned by companies to a usage-based service model" so that "the predicted shift to computing… will lead to a sharp increase in IT products in some areas and a significant reduction in other areas."
2008
In 2008, the US National Science Foundation launched the Cluster Exploratory program to fund academic research using Google-IBM cluster technology to analyze vast amounts of data.
2009
2009 Google Apps are released
2009
In 2009, the French government announced the Andromeda project to create a "sovereign cloud" or national cloud computing, for which the government will spend 285 million euros. The initiative failed and Cloudwatt was closed on February 1, 2020.
2010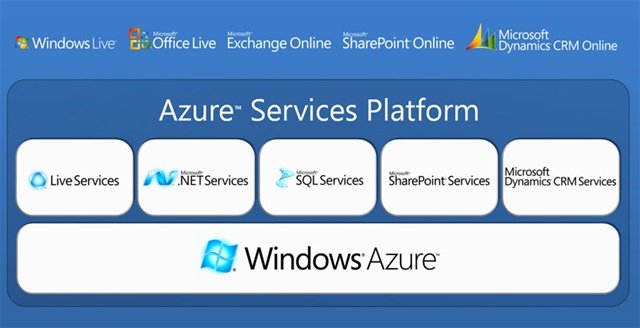 In February 2010, Microsoft released Microsoft Azure which was announced in October 2008.
2010
In July 2010, Rackspace Hosting and NASA jointly launched an open source cloud software development initiative known as OpenStack. The OpenStack project aims to help organizations that offer cloud computing services running on standard hardware. Early code was taken from NASA's Nebula platform, as well as from Rackspace's Cloud Files platform. As an open source offering, and along with other open source solutions such as CloudStack, Ganeti, and OpenNebula, it has attracted the attention of several key communities.
2011
In 2011, the National Institute of Standards and Technology formed a definition that structured and fixed all the interpretations and variations regarding cloud computing that had arisen by that time in a single concept.
2011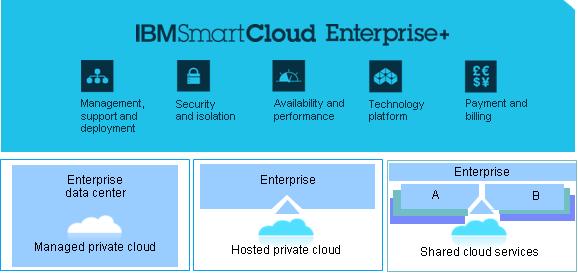 On March 1, 2011, IBM announced the IBM SmartCloud platform to support Smarter Planet. Among the various components of the foundation of Smarter Computing, cloud computing is an important part.
2012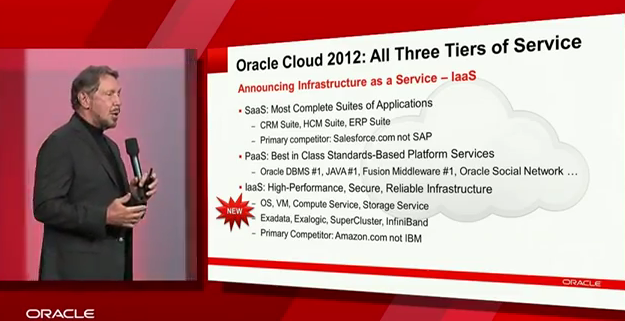 On June 7, 2012 Oracle announced Oracle Cloud. This cloud offering is to be the first to provide users with access to an integrated set of IT solutions, including application (SaaS), platform (PaaS), and infrastructure (IaaS) layers.
2013
In May 2012, a preview version of Google Compute Engine was released, and in December 2013 it went public.
It is an Infrastructure as a Service (IaaS) component of the Google Cloud Platform built on top of the global infrastructure that powers the Google search engine, Gmail, YouTube, and other services. Google Compute Engine allows users to run virtual machines (VMs) on demand. The VM can be run from standard images or custom images. 
2019
In 2019, Linux was the most common OS used on Microsoft Azure.
2019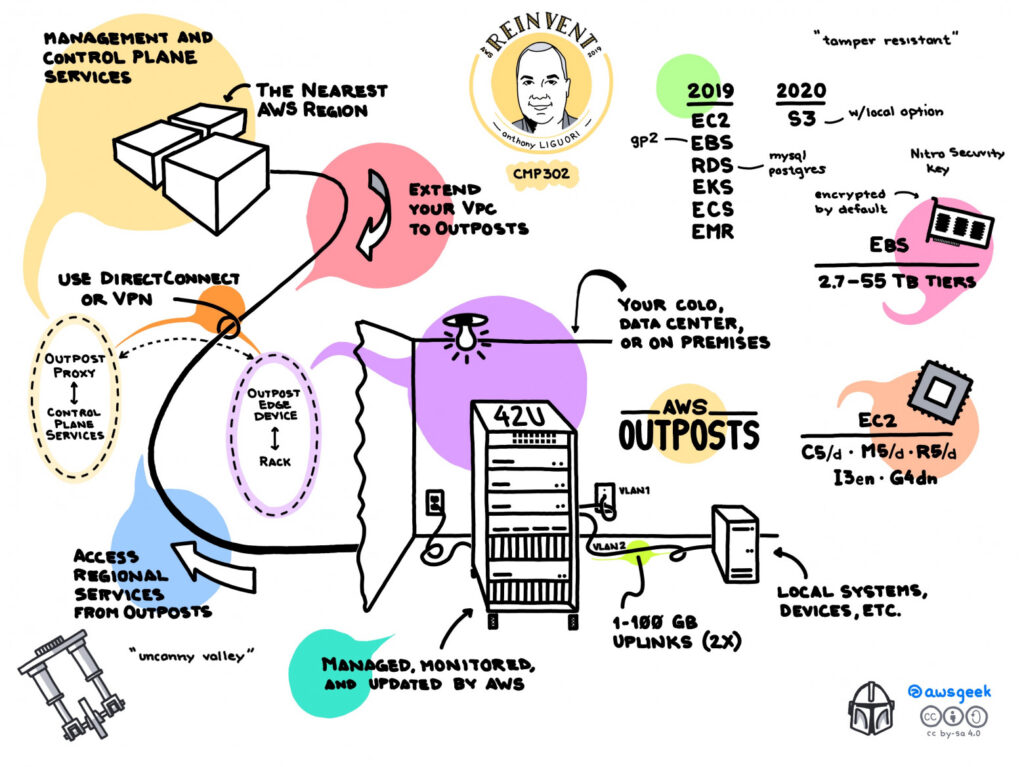 In December 2019, Amazon announced AWS Outposts, a fully managed service that extends the AWS infrastructure, AWS services, APIs, and tools to virtually any customer datacenter, co-location space, or on-premises facility for a truly consistent hybrid experience.