In today's world, organizations, both large and small, generate more and more information and accumulate existing, use more applications for working. Larger amount of data requires more resources for storing, processing, and providing information. If only buy and expand the number of physical servers all the time, the organization eventually will turn into Data Center. And this is not the main production, but only ancillary. Thus, obvious question arises: how this problem can be solved. At present, the solution to this problem is virtualization, which allows using all the resources of physical servers as efficiently as possible by running virtual servers on them.
What is virtualization?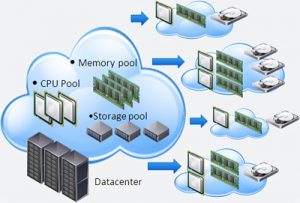 Virtualization allows to combine functionally independent servers running on different operating systems on one physical server, and at the same time to use its resources to the maximum. Many independent operating systems are installed on one physical server; each has its own dedicated resources. Thus, having just one or two physical servers in the office, it is possible to configure the entire infrastructure operation  (domain controller, mail server, file server, database server, application server, etc.)
Benefits of virtualization
Allows you to implement new business processes in less time without purchasing new equipment
Reduce of energy consumption. Decrease in expenses for power supply, air conditioning and UPS.
Reduction of downtime, minimization of recovery time after failures
Equipment cost-cutting
Reducing of support and support staff costs
Fault-tolerance increasing
Increasing of IT infrastructure management flexibility
Remote administration, ability to use IT outsourcing for services
Unification of software
Improvement of security
Our employees have a lot of experience in the implementation and support of virtualization technologies: Microsoft Hyper-V, VmWare, Citrix, OpenVZ, Proxmox, etc.
Stages of infrastructure virtualization implementation
analysis of current infrastructure
development plan based on the processes studying
selection of the most suitable product, calculation of implementation and ownership costs
implementation and maintenance of virtual infrastructure